About
For years, Ketchum Kitchens has been a go-to in the Wood River Valley for locals and visitors alike to find everything from funny coasters to fondue sets to bar accessories to barbecues. But never before has the store felt so fresh, vibrant, and complete. We've expanded our offerings to include a more robust section for entertaining at home, premium cooking equipment, and an even broader spectrum of gifts. Most notably, we've added on our new "Gourmet Marketplace," which offers specialty foods, wines and artisanal treats.
At Ketchum Kitchens, we offer a wonderful assortment of products at competitive prices. Every item is team-tested or tasted to take the guess work out of it for you! We are proud of our energetic and knowledgeable staff who consistently win the local "Best of the Valley" Awards for Best Customer Service and Best Gift Store.
So, stop on by — we'd love to share what we've been cooking up!
Vincent Carpenter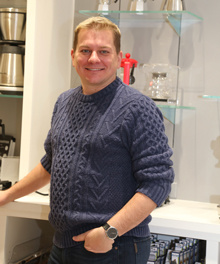 Vincent has been the Manager of Ketchum Kitchens for three of his 13 years in the Valley. He originally moved to Ketchum to further his career in baking with the Sun Valley Resort and other local restaurants, before he found his calling here at Ketchum Kitchens. His food-related knowledge is far from half-baked, as he has an Associate of Science in Baking and Pastry and a BS in Food Service Management. 
Vinny brings an impressive acumen and love of cooking and baking to the store along with some sassy dance moves. He is both an expert in meringue and the Merengue! He may always be hustling around the store, but he is always available to answer questions about our products, cooking, and is an expert at cooking at high altitude.
Food He Likes to Eat:
Meat and Potatoes
Moo Goo Gai Pan
Bistec Empanizado
What He Likes to Make
Miche-Style Bread
Steve's Chocolate Chip Cookies
Beef Stew
What he likes to do in the winter
Snowblow
Debra Flower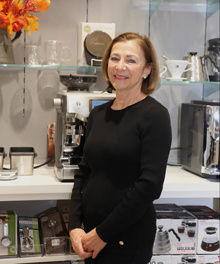 Debra is our warm and bubbly Sales and Customer Service leader. Her hard work and passion for cooking make her an important part of Ketchum Kitchen's incredible team. Regarding her work here at KK, she says "Kitchen stores are my passion. I come from a Williams-Sonoma store management background. I really appreciate how KK offers so much more than traditional stores. We are a kitchen store, gift store, gourmet food store, wine shop, coffee center, bookstore and the best place to see all of our friends in the Wood River Valley. We are always growing and adding to our products to keep KK my favorite store!"
Debra's goal is to provide the best customer service anywhere and she has accomplished this as we have been voted the "Best in the Valley for Customer Service" for the past two years!
Favorite Products:
Cutlery--Shun and Wusthof, the most important tools in the kitchen
Hestan--new and revolutionary cookware, a U.S. company; handmade in Italy
Wood Lab--beautiful charcuterie boards made in Eagle, Idaho
Gourmet Market Place--great foods, wines, vinegars and oils, snacks, seasonings, mixes and so much more
Carol Hoffman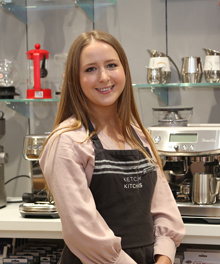 Carol joined the Ketchum Kitchens team in 2020, just weeks after she graduated from the University of Idaho with a degree in Marketing & Operations Management. She was raised in the Wood River Valley and is thrilled to be back as part of such a vibrant local business. In just a few short months, Carol has learned so much from her KK co-workers and customers!
Carol brings a broad smile and twinkling eyes to every customer – if only you could see behind the mask.  She has "stepped up" and "stepped in" to manage our email blasts, our Instagram postings and our Coffee and Tea products.
Favorite KK Products:
- Gadget wall finds! anything to simplify the cooking process
- Rumo pastas 
- Doma coffee beans 
- Stasher bags 
Kim Holden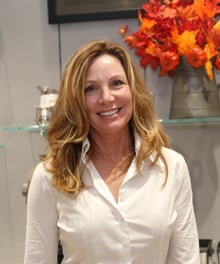 Kim has worked at Ketchum Kitchens for the past fourteen years. She moved from California in 1996 and made a home here for her four children, who love Sun Valley as much as she does.
Kim is happiest when working in the kitchen, which makes her a natural at helping customers find "just the right equipment" for their homes too. She loves to test our products in her own home, so she knows how everything works. Kim loves to host parties and will advise anyone how to plan an elegant party in their own home.
In her spare time, she loves to entertain, work on complicated genealogical research, and spend time with her family, friends and grandchildren. 
Kim leads our Kitchen Consulting Team and is the perfect person to help any customer outfit a new kitchen or re-outfit their current kitchen.
Kim's favorite Ketchum Kitchens items:
Lafco: Feu de Bois/Ski House Candle & Soap
Cuore di Pepe Nero Erbario Toscano: Room Spray
Lodge: Every Pan 
WoodLab Boards: Ocean Shades
Andrew Pearce: Champlain Cherry Wood Salad Bowls
Zavor: Lux LCD Multi-Cooker
Maria Sanchez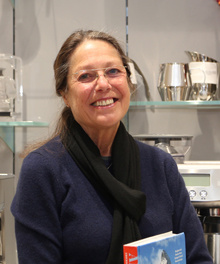 Maria has a kitchen store's dream resume; her experience in the food world is definitely nothing to sneeze at! She worked for the original founder of Sur La Table in Seattle, often assisting guest chefs and authors for cooking demonstrations and book signings, she was the co-owner of Campagne restaurant in Seattle for many years, and she owned Reheat, a new and used kitchen and tableware shop in Seattle.
Maria is our cookbook guru. She loves to read cookbooks and experiment with recipes.  When not learning or cooking, Maria loves long walks and hikes and spending time at her potter's wheel.
Maria's Favorite KK Items:
8" chefs knife
Microplane
Silicone rubber spatula
10" Lodge cast iron skillet
9" Scanpan
Starlight Herbs and Spices
Gay Riley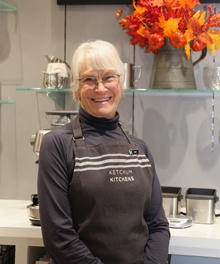 After 2 years with us at KK, Gay is a "newbie" compared to the rest of our veteran staff! But, while she may be a little wet behind the ears, she makes up for it in pure enthusiasm and passion for all things food! Gay has lived happily in the Wood River Valley for fifty years and has volunteered with local food non-profits including The Hunger Coalition and Idaho's Bounty. She equally loves supporting local farmers, solving cooking dilemmas and hiking in our wilderness.
Gay seems to know almost everybody in the Valley and engages her many old friends and new friends alike with the same upbeat, high-energy attitude. 
Gay's Favorite KK Items:
Maria's cookbook selection
Our newly expanded food and wine selection
Lafco candles
Spanish cazuelas 
Amie Marvel
Amie spent two decades working in James Beard award-winning dining rooms from San Francisco to New Orleans and she found herself wanting to find a more community-oriented home to raise her family and share her knowledge and passion for food and wine. Along the way, Amie has managed a specialty cheese store in Wisconsin (which says a lot!) and large specialty wine store in New Orleans.
Amie is the manager of our Wine Boutique and Gourmet Marketplace and loves to share her knowledge of food, wine, and cheese. Whether you're an avid West Coast wine drinker or prefer esoteric back vintages of Old-World treasures, Amie loves helping your favorite wine find its way to you! She also curates our expanding cheese and charcuterie selection and can't wait to help you build your next dinner party board.
When Amie moved to town last year with her husband to start a family, she became a frequent shopper at Ketchum Kitchens and joined the team early this summer.
John Melin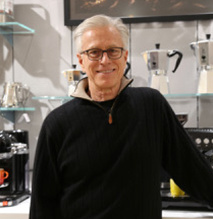 If there has to be a head chef at Ketchum Kitchens it is John, with over 40 years as a CEO and a major owner of 4 different companies, including Smith Optics in Ketchum. Although he is the first to point elsewhere in regard to the success, it is this type of leadership that has transformed the revitalized Ketchum Kitchens into what it is today. As easy-going as he is savvy, he has committed to an upbeat store environment with great customer service and great products for cooking and entertaining, and it shows. The new store design is a direct reflection of John's personality; bright, open and customer-friendly.
Beyond all that, he makes a mean meat loaf and can fire up a grill with the best of them.
Whitney Melin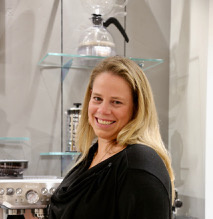 After years of working in restaurants, and eventually partnering in a local one, Whitney has finally found the perfect place to pursue her passion for cooking here at Ketchum Kitchens. She is currently experimenting with more gizmos and gadgets and pots and pans than she could have ever dreamed. When Whitney isn't enjoying time in the kitchen, she loves to show her daughter, Brady, all the amazing things Idaho has to offer and how lucky we are to live here. 
She is a buyer and the main person behind the computer system (someone has to do it!) and can ring you up with a smile and a joke. 
Whitney's Go-To's in the Kitchen:
Zavor Lux Multicooker
Hestan Wok
Progressive Handheld Adjust-A-Slice and Julienne Mandolin
SMEG Tea Kettle
Bobb Raziano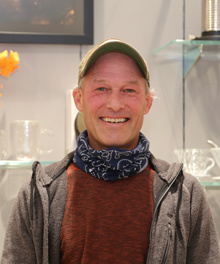 Bobb "with three B's" is our Inventory Manager. He is generally very elusive, but if you stand still and squint your eyes you may catch him. Whether he is processing shipments, replenishing shelves or managing our inventory system, Bobb is in constant motion and always making sure we have a well-stocked store.
Bobb has been in the Valley for over 30 years, starting as a ski tuner and moving into inventory management with some of our Valley's top sport retailers. He brings a wealth of inventory experience to our store, a knowledge of skis and skiing, and a constant smile, upbeat attitude and a great sense of humor. Hidden behind that smile is a borderline-OCD personality that keeps everything neat, organized and spotlessly clean.
Carol Van Bramer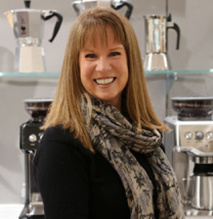 Carol has been with KK for more than 20 years! She is more excited than ever about all the great new lines we have to offer. Some of her favorites are the beautiful serving-ware from Vagabond House and Be Home, silk florals from K&K Interiors, Lafco candles and diffusers, and of course the incredible foods and wine in our Gourmet Marketplace. Carol loves to welcome  all of our customers, old and new, and help them find the perfect gift for anyone on their list.
In addition to the many products that Carol manages in the store, Carol knows everything about everything – whether in the store or in the Valley. And, for the record, she'd make the perfect partner for Trivia Pursuit: The Wood River Valley Edition 
When not volunteering, Carol is hosting cooking parties, creating fantastic recipes and enjoying outdoor and cultural life in the Valley.
Carol's Favorite KK Items:
Le Creuset cookware (Hers is 36 years old!),
Cuisinart immersion blender
Wusthof 7" Santoku and 8" Cook's knife
Nespresso machines
Scanpan fry pan
Some Of Carol's Favorite Recipes:
Fat Daddy's BBQ Pulled pork in Le Creuset oven
Chicken Chili Verde in the Cuisinart slow cooker
Quick and easy spicy Pho using Fusion Flavors Jalapeño Lemongrass dip mix