About

Familiar name, but with a whole new attitude.
Ketchum Kitchens has been a go-to staple in Ketchum for years as locals and visitors alike have come to count on the store for everything from fondue sets to BBQ's. But never before has the store felt so fresh and vibrant. With a cleaner and brighter look and an energized staff of knowledgeable employees, it can make even the novice look feel like a master chef.
At Ketchum Kitchens we offer a terrific assortment of cooking and entertaining products at great values and competitive prices. Every item is team-tested or tasted by our staff to take the guesswork out of it. So, stop on by and get cooking.
Vincent Carpenter
Vincent has been a resident of the Valley for 11 years, originally moving from South Florida to further a career in baking at the Sun Valley Resort. His food-related knowledge is far from half-baked, as he has an Associates of Science in Baking and Pastry, and Bachelors of Science in Food Service Management. He began working for Ketchum Kitchens as a part time sales person and earned his way to the position of Store Manager.
Vincent brings an impressive expertise and love of cooking and baking to the store, along with some sassy dance moves. So you can ask him about Meringue or the Merengue.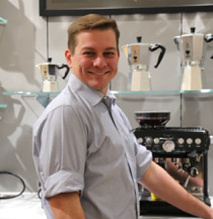 Food He Likes To Eat:
Meat and Potatoes
Chinese
Cuban Food
What He Likes To Make:
Breads
Chocolate Chip Cookies
Evening Dinners  
Debra Flower
While not at all biased, Debra's favorite store in all of Idaho is Ketchum Kitchens.  After moving here permanently, she joined the KK team bringing along a Williams-Sonoma management background and a love of cutlery. Her cooking philosophy…great knives are your best tools in the kitchen. Debra's personal favorites are Wusthof and Shun knives.
As KK's Customer Service Manager, Debra's goal is to provide the best customer service while following her passion of talking products and techniques with customers.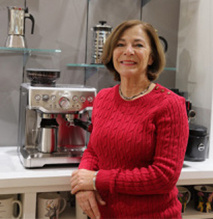 Favorite Foods
Vegetables
Grains
Pasta
Favorite KK Products
All of the Breville electrics
International Foods
Carol Van Bramer
Rarely do you come across someone who really knows their way around, Carol is the absolute exception. A valley resident since 1985, Carol has over 42 years of retail experience under her belt, with almost 19 years at Ketchum Kitchens alone. So to say she has seen it all would be the understatement of understatements. When not volunteering her time with the Souper Supper Dining Room, Carol is hosting cooking parties, developing fantastic recipes and enjoying all the benefits of the outdoor and cultural life in the Valley.
Oh, and if you are looking to play Ketchum trivia, Carol would be a pretty good partner.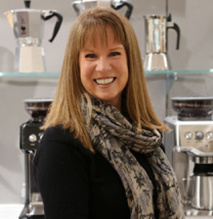 Carol's Favorite KK Items:
Le Creuset cookware (Hers is 36 years old!),
Cuisinart immersion blender
Wusthof 7" Santoku and 8" Cook's knife
Nespresso machines
Scanpan fry pan
Some Of Carol's Favorite Recipes:
Fat Daddy's BBQ Pulled pork in Le Creuset oven
Chicken Chili Verde in the Cuisinart slow cooker
Quick and easy spicy Pho using Fusion Flavors Jalapeño Lemongrass dip mix
Kim Holden
Kim has ten years of tenure at Ketchum Kitchens. A Southern California native, who moved to Sun Valley in 1996, she considers coming to work at the store a pleasure because of our incredibly loyal customers. Happiest in the kitchen or throwing a great party, she's always game for a party planning challenge presented by our customers. Kim's knack for finding the perfectly elegant elements makes it all look so easy. She loves being the personal glue that puts the party puzzle together. 
Stick with Kim, she'll help you pick out the proper pieces.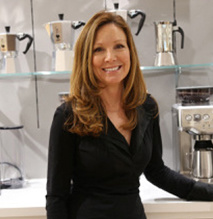 Kim's Favorite KK Items: 
Nespresso Aeroccino frother
Rosle garlic press
Wusthof Ikon paring knife #4086
Cuisinart cutting boards 3 sizes
Chef'n Freshforce lemon press
Maria Sanchez
When it comes to Ketchum Kitchens, Maria brings the heat, as her experience is red hot. She has worked for the original founder of Sur La Table in Seattle, often assisting guest chefs and authors for cooking demonstrations and book signings, additionally she was the co-owner of Campagne restaurant for many years, followed by Reheat, a new and used kitchen and tableware shop. Since moving to Ketchum in 2000, Maria has worked for Ketchum Kitchens and become our guru of cookbooks.
When not at the store, she loves cooking (naturally), reading cookbooks, taking long walks, and spending time at the potter's wheel.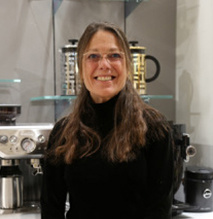 Maria's Favorite KK Items:
8" chefs knife
Microplane
Silicone rubber spatula
10" Lodge cast iron skillet
9" Scanpan
Whitney Melin
After years of working in restaurants, and eventually partnering in a local one, Whitney has finally found the perfect place to pursue for her passion for cooking. She is currently learning about, and experimenting with, more gizmos and gadgets and pots and pans than she could have ever dreamed. Whitney loves to cook almost as much as she loves her daughter, Brady, and with over 6000 items in the store, (not that anyone is counting except for her) she has a long, fun road ahead.
She is the person behind the computer system (someone has to do it!) and can ring you up with a smile and a joke, and know the exact SKU number of the item without looking.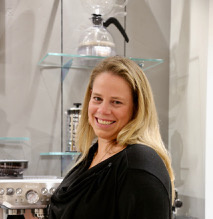 John Melin
If there has to be a head chef at Ketchum Kitchens it is John, with over 40 years as a CEO and a major owner of 4 different companies, including Smith Optics in Ketchum. Although he is the first to point elsewhere in regard to the success, it is this type of leadership that has transformed the revitalized Ketchum Kitchens into what it is today. As easy-going as he is savvy, he has committed to an upbeat store environment with great customer service and great products for cooking and entertaining, and it shows. The new store design is a direct reflection of John's personality; bright, open and customer-friendly.
Beyond all that, he makes a mean meat loaf and can fire up a grill with the best of them.